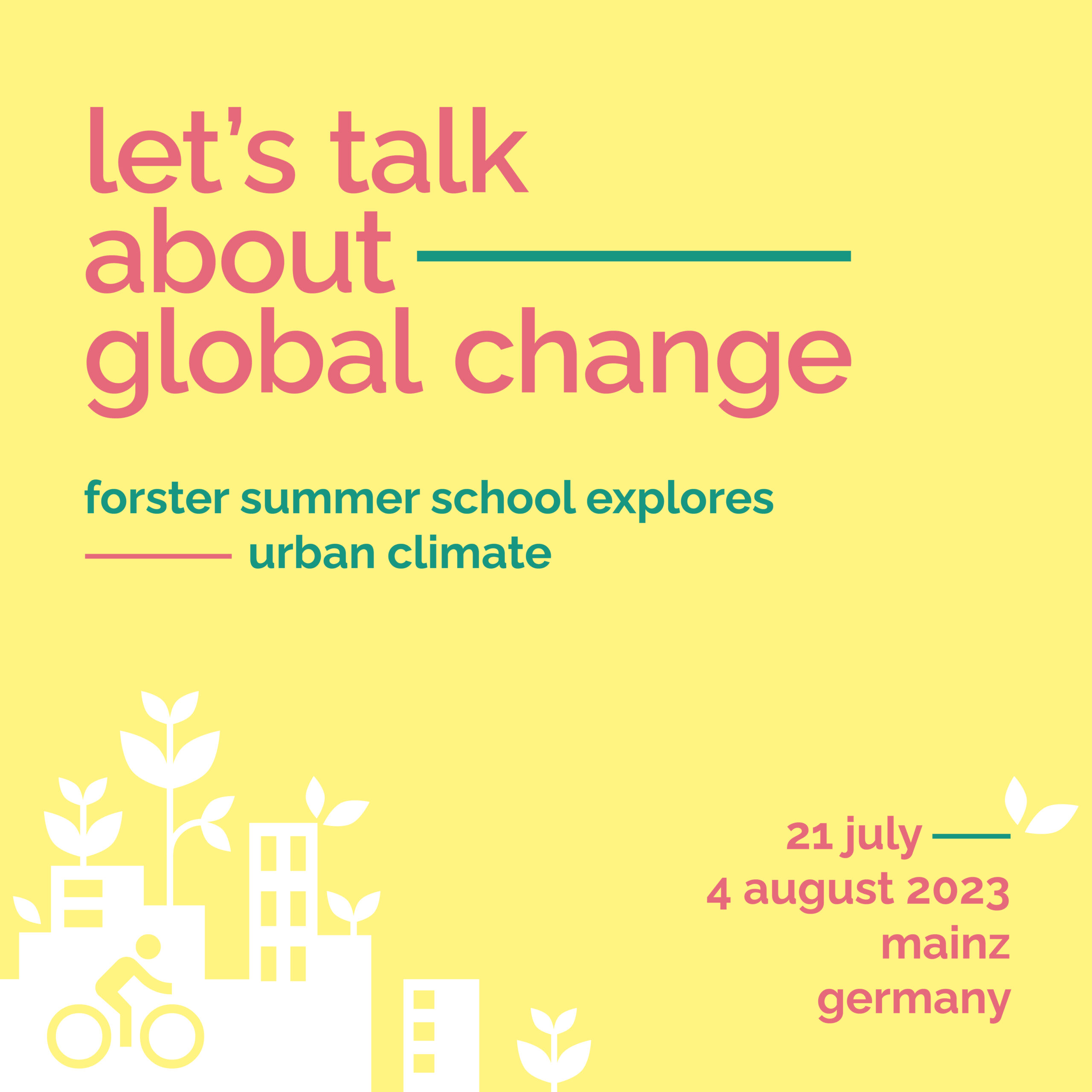 The date? 21 July - 4 August 2023

Where? Campus of JGU – Excursions to the surroundings
The participation fee? 150,00€
Arrangement included? Course fees, materials, lunch fees during the lecture program, accomodation with breakfast, excursions. Travel, insurance and visa must be organized and paid independently.
The accomodation? 2-bed and 4-bed rooms have been pre-booked in a youth hostel near the JGU.
Course schedule? Program Forster Summer School 2023. Please note that the program is subject to change.
Please note: The whole program is held in English and places are limited. A maximum of 30 students can participate in the Forster Summer School. After the application deadline, a selection committee decides on the allocation of places.
Application: Please fill in the PDF-file completely and submit your application with a CV, certificate of study and language certificates (if available).
Submission: Please send your application in a single PDF document to: international.nullneun@uni-mainz.de
Deadline for application: 15 April 2023
For any questions, do not hesitate to contact us. We are looking forward to your application!
---
Forster Summer School explores – urban climate.
Adaption, development and sustainable transformation
Program 21 July – 4 August 2023
Date and time

 

Overview

 

Description
Location
Fri, 21 July
 

 

Arrival and getting to know each other

 

Welcome
Registration and reception
Youth hostel Don Bosco, Mainz
19.00
Welcome dinner
Youth hostel Don Bosco, Mainz
Sat, 22 July
 

 

Language and cultural experience

09.30 – 13.00
Language workshop

Survival-Kit for the stay (beginners)

Everyday conversation skills (intermediate)

→ Dr. Sandra Schellack

→ N.N.

Chemistry building (2121), Campus JGU
13.00 – 14:00
Lunch break
Self-organised
Mainz city center
15.00 – 17.00
Guided tour

Mainz highlights

→ Guide Geographie für Alle

Mainz city center
Free time
City center
19.00
Dinner
Wine house Lösch
Mainz city
Sun, 23 July
 

 

Build a team and explore the region

 

08.40 – 10.22

10.30 – 13.00

Transfer

Cultural visit

Rafting Tour - UNESCO World Heritage Upper Middle Rhine Valley
Assmanshausen to Kaub
13.00 – 14.30
Lunch break
Beim alten Zollhaus
Kaub
14:30 – 16.30
Visit (Optional)
Pfalzgrafenstein Castle
Kaub
16.00
Lecture (Optional)

KLIMAkademie – Public lecture (in German):

"Menschheitsproblem Klimawandel - wissenschaftliche Grundlagen und die Dringlichkeit zu handeln (The human problem of climate change - scientific foundations and the urgency to act)"

→ Univ.-Prof. Dr. Wirth, Institute for Atmospheric Physics, JGU

Institute of Molecular Biology, Lecture Hall, Campus JGU
19.00
Dinner
Self-organised
Mon, 24 July
 

 

Opening: Climate change and

urban climate

 

 
09:30 – 10.00
Official welcome

Opening words

→ Dean of the Faculty 09, JGU

→ Head of International Office, JGU

NatFak, Room 07-232, Campus JGU
10.00 – 10:45
Presentation and exchange of ideas

Students

→ Prof. Dr. Efferth, Institute of Pharmaceutical and Biomedical Sciences, JGU

→ Dr. Jacobsen, Institute of Geography, JGU

→ Ph.D. Student Kuhl, Climatology Group,    Department of Geography, JGU

→ Dr. Seelos, Institute of Geosciences, JGU

→ Prof. Dr. Seiffert, Department of Chemistry, JGU

NatFak, Room 07-232, Campus JGU
10.45 – 11:00
Coffee break
11.00 – 12:30
Lecture and discussion

"Planetary Emergency: How we got in ... and how to get out."

→ Prof. Dr. Seiffert, Department of Chemistry, JGU

NatFak, Room 07-232, Campus JGU
12:30 – 14:00
Lunch break
Baron
14.00 – 16.00
Photo project – group formation

Experiences of urban climate change from my city of origin/my study city

→ Students

NatFak, Room 07-232, Campus JGU
16.00 – 17.00
Campus tour
→ Assistant students
18.00
Dinner
Self-organised
Tue, 25 July
 

 

Impacts of climate change on cities

and plants

 

09.30 – 11:00
 
Program will be published
N.N.
12:00 – 14:00
Lunch break
Vegan Cafeteria "Bambus"
14.00 – 15.30

 

"Influence of climate change in medical plants"

→ Prof. Dr. Efferth, Institute of Pharmaceutical and Biomedical Sciences, JGU

NatFak, Room 07-232, Campus JGU
19:30
Concert

Concert at Mainz School of Music

→ Mainz School of Music

Campus JGU
Wed, 26 July
 

 

Roof/facade greening

 

 
9.30 – 12.00
Lectures and discussion

"Climate impact of plants in urban spaces"

→ Prof. Dr. Hietel, Life Sciences and Engineering, Bingen Technical University of Applied Sciences

"Dust trapping capacity of specially selected plants"

→ Dr. Seelos, Institute of Geosciences, JGU

NatFak, Room 07-232, Campus JGU
12.00 – 14.00
Lunch break
Bali Bistro
 
14.00 – 16.00
Hands-on

"Wind tunnel experiments of specially selected plants and evaluation by digital microscope"

→ Dr. Seelos, Institute of Geosciences, JGU

Laboratory, NatFak
18.00
Dinner
Barbecue
Meadow in front of NatFak
Thu, 27 July
 

 

Urban climate and breathability

 

 
09.30 – 12.00
Lecture and workshop

"Something in the air: Urban breathability and the rise of air quality technologies"

→ Dr. Jacobsen, Institute of Geography, JGU

NatFak, Room 07-232, Campus JGU

12.00 – 13.30
Lunch break
Zentralmensa (Cafeteria)
 
14.00 – 17:00
Hands-on

"High-resolution spatio-temporal measurements of urban climate"

→ N.N., Institute of Geography, JGU

Campus JGU, City center
19.00
Dinner
Regional and fresh cuisine
Mainz-Lerchenberg
Fri, 28 July
 

 

Urban trees

 
9.30 – 11.30
Lecture and scientific visit

"Dendroclimatology in Urban Areas - how well are platanus and acer trees coping with drought stress in Mainz, Germany"

→ Ph.D Student Kuhl, Institute of Geography, JGU

NatFak, Room 07-232, Campus JGU
12.00 –13.30
Lunch break
Diwan
14.00 – 16.00
Workshop
"Trees and climate - Comparative damage and tolerance analyses of urban tree species in different regions of Germany"
Grüne Schule, Botanical garden, Campus JGU
18.00 – 20.00

Cultural tour

Vineyard tour
Oppenheim

 

 

 

 

Sat, 29 July

 

 

 

 

Summer leisure activities

 

 
9.30 – 14.00

Practical language exercises

Everyday conversation in German – Market shopping in the city
NatFak, Room 07-232, Campus JGU, City center
14.00 – 15.00
Lunch break
Picnic on the banks of the Rhine River
City center
15:00 – 17:00
Free time
Mainz
18:00

International evening: Specialties from all over the world and seasonal prepared products

House of Youth, City center
Sun, 30 July
 

 

Individual explorations

 

 
Free time
Explore Mainz or its beautiful surroundings on your own.
Mon, 31 July
Urban design and transformation
9.30 – 13:00
Lecture and discussion

Keynote: "Sponge city principle with a focus on the BoRSIS research project"

→ Ph.D. Student Walther, Hochschule Ruhr   West, University of Applied Sciences

Keynote: "Sustainable Open Space and Urban Design"

→ Prof. Dr.- Ing. Dieterle Frankfurt University of Applied Sciences

NatFak, Room 07-232, Campus JGU
13.00 – 14:30
Lunch break
Baron
15.00
Program will be published.
NatFak, Room 07-232, Campus JGU
Tue, 01 Aug.
 
Climate protection project on campus
09.30 – 12.00
Presentation and basics
Program will be published.
12.00 – 13.30
Lunch break
13.30 – 14.30
Hands-on

Green and flowering area design

16.00 – 16.30
Coffee Break
16.30 – 17.30
Presentation
18.30
Dinner
Wed, 02 Aug.
 
Climate protection management
09.30 – 11.30
Visit of regional project
Climate protection project in Worms: Heat walk
Worms
12.00 – 13.30
Lunch break
14.00 – 17.00
Group work

Climate protection projects in Worms:

Citizen Survey – Exterior Design

Worms
Thu, 03 Aug.
 
Key findings of urban climate
09.30 – 11.30
Photo project – group work
Impressive pictures - Experiences of urban climate changes from my city of origin /my study city and Rhineland-Palatinate cities. Adaption, development, sustainable transformation.
NatFak, Room 07-232, Campus JGU
12.00 – 13.30
Lunch break
14.00 – 17.00
Wrap-up session and group Presentation

Experiences of urban climate changes. My city of origin/my study city - Rhineland-Palatinate cities.

NatFak, Room 07-232, Campus JGU
18.00
Farewell Dinner
Fri, 04 Aug.
 
Individual Departure