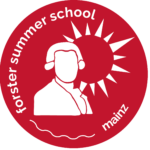 Are you currently enrolled in a bachelor's, master's or PhD study program and would you like to take the opportunity to establish an international network and participate in interdisciplinary knowledge transfer?
Would you like to get to know Mainz as a place to continue your studies in the future and discover the surroundings?
Would you like to develop your language and cultural skills?
If so, then join Forster Summer School, hosted annually by the Faculty of Chemistry, Pharmaceutical Sciences, Geography and Geosciences at the Johannes Gutenberg University Mainz.
Georg Forster, the namesake of our summer school, was a revolutionary naturalist and world explorer, whose curiosity and global thinking, is the inspiration for our summer school. Each year, scientists from the fields of Chemistry, Pharmaceutical Sciences, Geography and Geosciences take a closer look at a specific topic from the field of global change and explore various future-based perspectives.
Let's talk about global change! The year 2023 has already started and we're setting up exciting contents and scientific inspirations for you in our summer school from 21st of July until 4th of August. This year Forster Summer School explores - urban climate. Adaption, development and sustainable transformation. The programme is currently in planning. You can look forward to a unique summer experience full of knowledge and new encounters.
>>> Here you find more information about the upcoming Forster Summer School 2023<<<
>>> Here you find previous Forster Summer Schools and contents<<<
---
Ihre Ansprechpartnerin:
Dr. Sandra Schellack
Tel+ 49 6131 39-28983
E-Mail